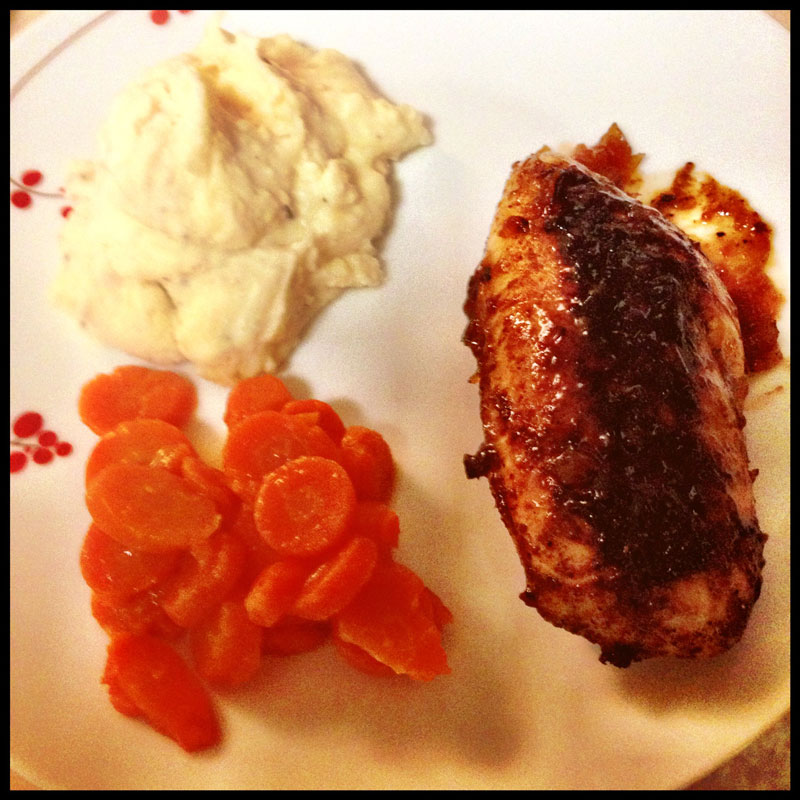 We made some awesome BBQ Chicken tonight. Here's the recipe we used. Hope y'all enjoy!
Ingredients:
2 boneless, skinless chicken breasts
1 tbsp. olive oil
1 tsp. chili powder
¼ tsp. onion powder
¼ tsp. garlic powder
¼ tsp. dried oregano
½ tsp. kosher salt
½ c. Apple Hickory BBQ Sauce
Instructions:
Mix olive oil, chili powder, onion powder, garlic powder, oregano, salt, and cayenne pepper in a medium bowl. Add raw chicken and coat evenly.
Heat medium skillet (preferably iron) over medium-high heat and coat with cooking spray. Place chicken breasts in skillet, cover, and cook 5 minutes.
Turn chicken, replace cover, and cook an additional 5 minutes.
Remove cover and check chicken for doneness with probe thermometer or testing if juices run clear. When cooked completely, pour half of BBQ sauce over chicken. Turn chicken over, and pour remaining sauce over the other side. Cook 2-3 minutes more while using a spoon or basting brush to coat chicken with sauce.
---
---
comments powered by

Disqus